"Without music life would be a mistake" – Nietzsche
Leave it to my friend Lloyd Fischler to coin the motto of Billy Bob Productions. Maybe you have one of those t-shirts that suddenly appeared in the late 90s with our cool blue guitar logo and the Nietzszche quote on the back. But you had to go to one of our shows. And then you had to actually see Lloyd's shirt and let him know that you'd like one just like it. And then, maybe, two or three concerts later Lloyd would have the shirt for you but forget to ask you for money, even though Billy Bob Productions – as a company – didn't have any. There must be a full dozen shirts still floating around downtown Montreal.  Kind of like Lloyd, who's a criminal lawyer.
The Billy Bob story started where so many great Montreal stories start – with Ted Blackman.
Ted was an even bigger music fan than I am. Late one morning in the mid 90s, following his on air shift, Ted called, as he often did. He was raving about a singer-songwriter who sounded like Van Morrison had Morrison been born in Texas or Oklahoma instead of Belfast. "He covers a bunch of Dylan songs" growled Ted over the phone. "Amazing voice – just pick it up."  It – was Lafave's debut album – "Austin Skyline" recorded live at Austin's legendary downtown music club (since closed) La Zona Rosa.  As Ted had suggested there were four Dylan songs but the best cover of all was Jimmy's incredible soulful take on "Walk Away Rene", a 1967 smash hit by The Left Banke. And there were plenty of Jimmy originals. I was hooked. I began playing it on my Drive Show on CIQC Radio ("Melnick/No Limit"). Among our regular listeners was Lloyd. We had yet to meet. But he too flipped out when he heard Jimmy's voice. And he decided to go one step further – to actually find this guy on the road. Turns out Lafave was playing somewhere in the mountains of Vermont so Lloyd and a couple of his buddies travelled to check out Jimmy in person. They struck up a conversation after the show and Lloyd decided to bring Jimmy to Montreal. But he needed some help. That's where I came in. I was happy to plug the show at Cafe Campus but happier still to host Jimmy in studio with his bandmate "Buffalo" Terry Ware. An instant bond was formed. (I had met Lloyd prior to him bringing Jimmy into the studio. I was at the bar at The Spectrum during The Wallflowers concert when he approached me, bummed out after splitting up with his girlfriend, and asked if I'd play a Dylan (Sr.) song for him on the air the next day. Of course I did. I actually played nothing but Dylan songs back then (or so it seemed to some listeners) so when Lloyd called me few weeks later to discuss Lafave I knew who he was.)
Jimmy Lafave's first Montreal date – "promoted with ferocity by Mitch Melnick" as I recall Marc Lepage's Gazette review – was a resounding success at Cafe Campus. Even Blackman, who by then rarely ventured out at night, was there. "Lafave is a Dylan interpreter of considerable talent" continued Lepage in his review. The room was full, the vibe was cool, the reaction was intoxicating. I saw a possibility. Lloyd and I discussed not just a return date for Jimmy but to bring in other artists to play our city, especially those who for whatever reason had stopped visiting, or were never here in the first place. Also on hand that night was a Montreal financial whiz named Gary Silverman who has known Lloyd since high school. And another longtime pal of Lloyd's named Andrew Besner.
We brought Jimmy back on several occasions (Cabaret, the original Club Soda, Petit Campus, Club One) but on his recommendation we started to attract similar under-the-radar singer-songwriters of considerable talent including Fred Eaglesmith, Tom Russell, Alejandro Escovedo, Chris Smither, the late Chris Whitley, Ray Bonneville and eventually folk legends Loudon Wainwright III, Eric Andersen and the late Odetta. We treated them exceptionally well. Took them to dinner, put them up in quality hotels, got most of them good press and a great time was had by all. The only thing missing was a profit. But we did start to make a name for ourselves in the music community. Artists were now calling us. Jesse Winchester had recorded his first studio album in a decade ("Gentleman of Leisure") and decided to mount his on stage comeback with us at the Spectrum on a memorable freezing night in January of 2000. Jesse and the packed crowd warmed us all. (The next time Jesse performed for us was at Theatre Outremont with the legendary Texan Guy Clark as his opener. Ticket sales were slow. Before Guy took to the stage Jesse looked up at the balcony and lamented "There's nobody up there". Guy's response: "Jesse, it's a Tuesday night, two weeks after September 11th. We're lucky to have anybody show up." ) Montreal guitar hero Frank Marino was so impressed by what we were trying to do on the local music scene that he too decided to hook up with us to mount his comeback. Dan Bern and his band pulled a memorable all-nighter at Cafe Campus. A young Canadian songwriter just busting through must have set the record for the largest crowd ever at Club One on Crescent (or was it still Club Zone at the time?) when close to 200 people were jammed into the tiny basement venue. His name was Ron Sexsmith. Roger McGuinn and Richie Havens gave us our first financial bath when they played a double bill at the Oscar Peterson Concert Hall at Loyola – on Canadian Thanksgiving. It was one third empty. The performances were strikingly good but we learned a lesson. So when we tried (hard) to land the elusive Tom Waits and were told that the only night he'd consider fell on Yom Kippur we passed. We're still waiting on Waits.
Montreal might still be waiting on John Prine if not for us. Prine was our biggest target. (Actually we inquired about Bob Dylan, Don Henley and Steve Earle who were all in the midst of being ignored by local promoters. Difficult to believe but both road warriors Dylan and Earle went five + years between visits.) Nobody had ever asked John Prine to play Montreal. The fact that it took somebody outside the business to finally invite him intrigued Prine and his manager (and co-founder of his label Oh Boy Records) Al Bunetta. Lloyd could barely contain his enthusiasm when he told us that Prine was interested – but we couldn't make it work financially. Prine had long since stopped playing music clubs. He was on the theatre circuit. But because we were so persistent he agreed to slash his usual appearance fee to allow us to put him in the Spectrum – as long as we agreed to treat him to a "genuine French" dinner in downtown Montreal. This was shaping up as something special. But I still couldn't figure out why a single promoter would not have thought of bringing the legendary songwriter to Montreal. So I invited one of them to lunch at a sushi restaurant on Greene Avenue. When we told him about our plans for Prine he snorted. "English singer-songwriter who's never played here? You'll be lucky to sell 150 tickets."
John Prine and his band played Montreal for the first time on Saturday, August 24, 2001. We sold so many tickets we had scalpers pacing outside. We sold out the joint (capacity was about 1,200). Billy Bob Productions had reached its peak. We even made some money – about $300. As promised we had taken Prine, plus his guitarist Jason Wilbur, bass player Dave Jacques, Bunetta and another friend to dinner the night before. Bunetta and company had decided to make a Montreal weekend out of it. So we took them to Le Mas des Oliviers on Bishop Street. The wine, the food, the wine, the stories, the wine, the food, the wine…you get the picture. Prine was inquisitive. Bunetta was a rock and roll historian. We were Montreal ambassadors. It was a magical night – without a single note of music. I walked Prine back to his hotel. Bunetta wasn't done. He was going to meet up with us at Hurley's. But first he went in search of a single joint to smoke. (I was saddened to hear of his death last spring of cancer at the age of 72.)
The concert – with Tom Russell and Andrew Hardin as openers – was spectacular in so many ways. By the time Prine hit the stage singing "Spanish Pipedream" (She was a level headed dancer on the road to alcohol, and I was just a soldier on my way to Montreal…) a few tables had already gone through dozens of Molson Ex. It was rowdy. Never threatening. But clearly the combination of a 30 year wait and a lot of beer and booze provided Prine with one of the most unique settings of his career. (When he returned a year later to play Metropolis as part of a Gillette Entertainment Eastern Canadian tour – there was no alcohol permitted once he started to play. He hasn't been back.)
We continue to do the odd show (highlighted by this) but in light of the fact that Matt Large and Hello Darlin' Productions picked up a lot of the artists we had originally promoted and had/has the time to devote to make the folk/roots scene grow to the extent that Montreal finally has its own folk festival –  mostly what we have left is a pipe dream. Our spiritual leader Andrew Besner (Billy Bob) passed away  a year ago. He showed incredible strength and grace as he taught us all the true meaning of the word courage. Lloyd, Andrew's best bud, redefined the word friend.
The Billy Bob spirit was on full display when we saved a Dan Bern solo appearance as a couple of local promoters decided to play tough. "We told them to go fuck themselves" said one who purports to care about musicians on the haggling over a couple of hundred dollars. With a terrific new album and a genuine fondness for Montreal it didn't seem right that Bern would find himself crisscrossing North America alone in his car without stopping in Montreal. We made it happen on a memorable October night in a packed music room upstairs at Hurley's (with a lot of help from Bill Hurley & Rod Applebee). Anybody who was there that Friday night felt it. It was the embodiment of what Billy Bob Productions is about. And of course after the show we filled Dan with a much needed Jewish deli feast at The Main. It was like watching a condemned man eat his last meal. But he was well-fueled for the drive home to California.
We will all gather again in May to celebrate Dylan's 75th birthday. It'll be bigger than 70. It has to be. We've moved it to Club Soda. In the meantime, Gary Silverman has started his own music company with a couple of heavyweight partners. For Lloyd and I – the road goes on forever. Or at least until we find our own music home.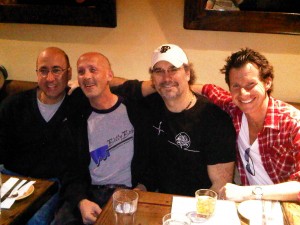 Lloyd, Andrew(BillyBob), Mitch & Gary.