Andrea Ramolo plays Turbo Haus in St. Henri Nov 8. Tickets: $20
Available at Environnement Electronique 4914 Sherbrooke Street West 514-484-4416 $24 at the door $10 students at door w/ID OR online right here:
NOV
08
Billy Bob Productions presents Andrea Ramolo in concert
$20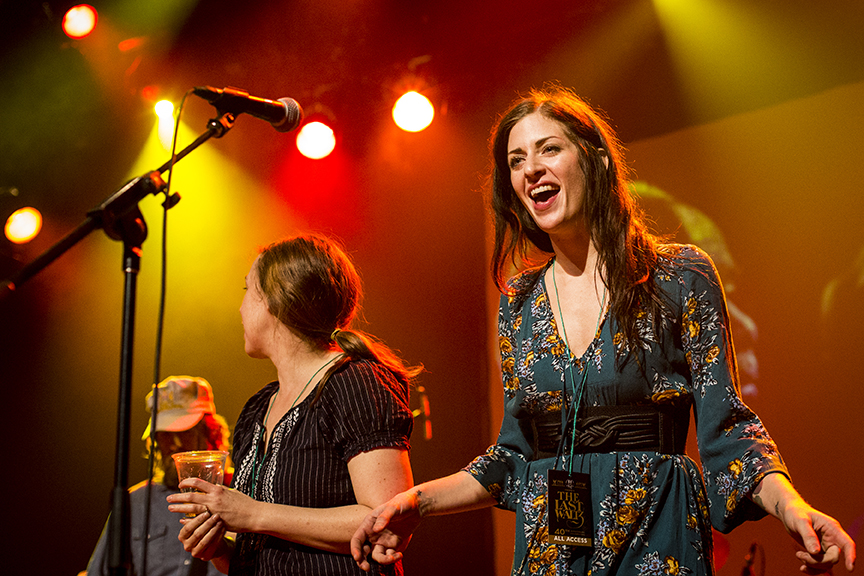 Event Information
DESCRIPTION
Sultry, cool, singer-songwriter Andrea Ramolo, part of the Toronto music and arts scene for over a decade, performs in support of her critically acclaimed new album "Nuda", produced by Michael Timmins of the Cowboy Junkies. The album was long-listed for a Polaris music prize. Joining Andrea on stage will be Megan Lane on lead guitar and Sahra Featherstone on electric violin. Montreal's Bobby Dove opens. You might remember Andrea from The Last Waltz 40th Anniversary Concert last November at a sold out Corona Theatre. Andrea performed the Gram Parsons classic "Sin City" plus Bob Dylan's "Oh Sister" and "Up On Cripple Creek" (w/High & Mighty)by The Band. Late in the night she led a surprise tribute to Leonard Cohen by singing "Hey, That's No Way To Say Goodbye" as the hushed crowd, many on their way out the door, stopped in their tracks. Don't miss Andrea and her friends in the intimate setting of Turbo Haus.
https://www.eventbrite.ca/e/billy-bob-productions-presents-andrea-ramolo-in-concert-tickets-39136817274?aff=es2
EN SPECTACLE
1/11  London – The Aeolian Hall
8/11  Montréal – Turbo Haus (présenté par Billy Bob Productions)
9/11  Ottawa – Centre National des Arts
11/11  Toronto – The Dakota Tavern
Montréal, octobre 2017 – Avec Nuda, son album solo lancé en début d'année, Andrea Ramolo – également membre du duo Scarlett Jane – offre à travers ses histoires de voyage, d'amour et de rupture, une collection de dix morceaux empreinte d'une vulnérabilité à l'état pur. Ce troisième effort solo démontre l'évolution d'Andrea Ramolo autant comme chanteuse que comme auteure–compositrice. Elle en présentera l'essentiel sur scène lors de spectacles à London (1er novembre – The Aeolian Hall), Montréal (8 novembre – Turbo Haus), Ottawa (9 novembre au CNA) et Toronto (11 novembre – The Dakota Tavern).
Le spectacle du 8 novembre au Turbo Haus de Montréal, présenté par Billy Bob Productions, sera le premier véritable spectacle solo d'Andrea dans la métropole. « Je suis venue à Montréal quelques fois avec Scarlett Jane et j'ai adoré la ville. J'ai vraiment hâte de présenter mon matériel solo au public montréalais. » raconte Andrea.
Réalisé par Michael Timmins (The Cowboy Junkies), Nuda offre un univers sonore riche et atmosphérique accompagnant à merveille des récits personnels bruts et touchants. Andrea Ramolo s'est entouré du bassiste Josh Finlayson (Gordon Downie, Cowboy Junkies), du batteur Ray Farrugia (Cowboy Junikies, Jukhouse), du claviériste Jason Sniderman (Rush, The Strumbellas), d'Aaron Goldstein à la guitare pedal steel  (City and Colour) et de la chanteuse Faye Blais.
Née à Toronto de parents italiens, Andrea débute sa vie artistique en tant qu'actrice et danseuse, mais commence à jouer de la guitare en 2003 pour « soigner sa peine et faire quelque chose de productif » alors que sa mère se bat contre un cancer du sein. Les morceaux country-folk minimalistes qui en résultent finiront sur son premier album, Thank You For The Ride. Son successeur, The Shadows and The Cracks (2011), lui vaudra une nomination aux Canadian Folk Music Awards.
Andrea et Cindy Doire forment ensuite le duo Scarlett Jane, projet avec lequel elles enchaîneront les concerts pendant cinq ans pour défendre leurs deux albums : Stranger(2012) et le disque éponyme sorti en 2015.